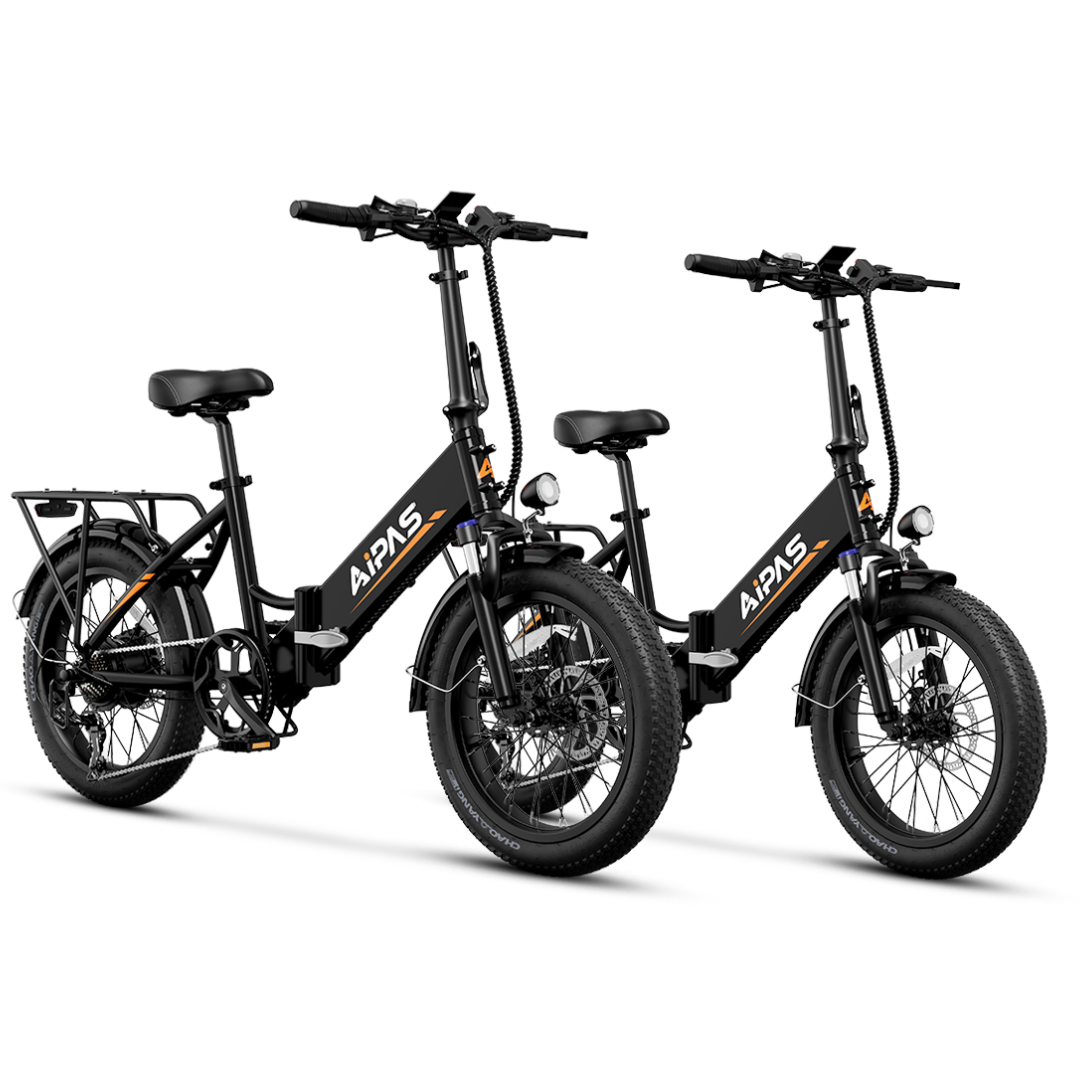 Combining A2 +A6 to meet various riding needs for sale
Pickup available at Shiphooray
Usually ready in 2-4 days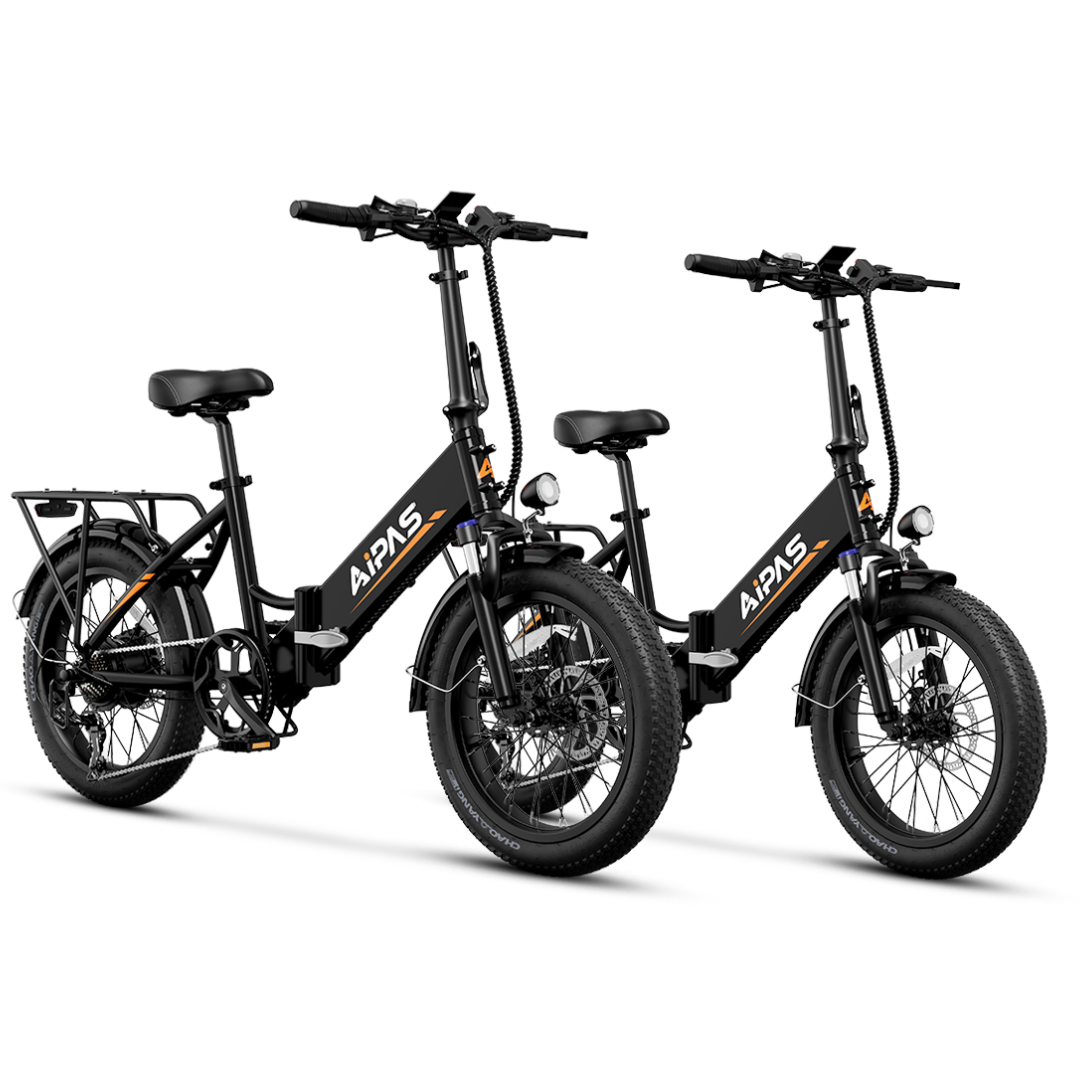 Combining A2 +A6 to meet various riding needs for sale
A6White+A2Black
3690 East Jurupa Street
Ontario CA 91761
United States
+16267026679
Trusted Delivery

Pay With Ease
You can opt for local pickup in the United States (address: 3690 Jurupa St, DOCK 1-7 ,Ontario, CA 91761). Just select the local pickup option when making the payment. After the purchase, our staff will contact you with the necessary documents for you to pick up your order locally.
We provide a 1-year warranty service. For non-human-caused vehicle issues, there are two solutions. The first is to contact Aipas staff to have replacement parts shipped to you. The second is to have the vehicle repaired at a local repair shop and provide proof of payment, after which Aipas will reimburse the cost.
Your order will be delivered to your provided address within 3-5 days. For the security of your vehicle purchase, a signature will be required upon delivery. We use major shipping carriers such as FedEx Ground, UPS, and DHL for our deliveries.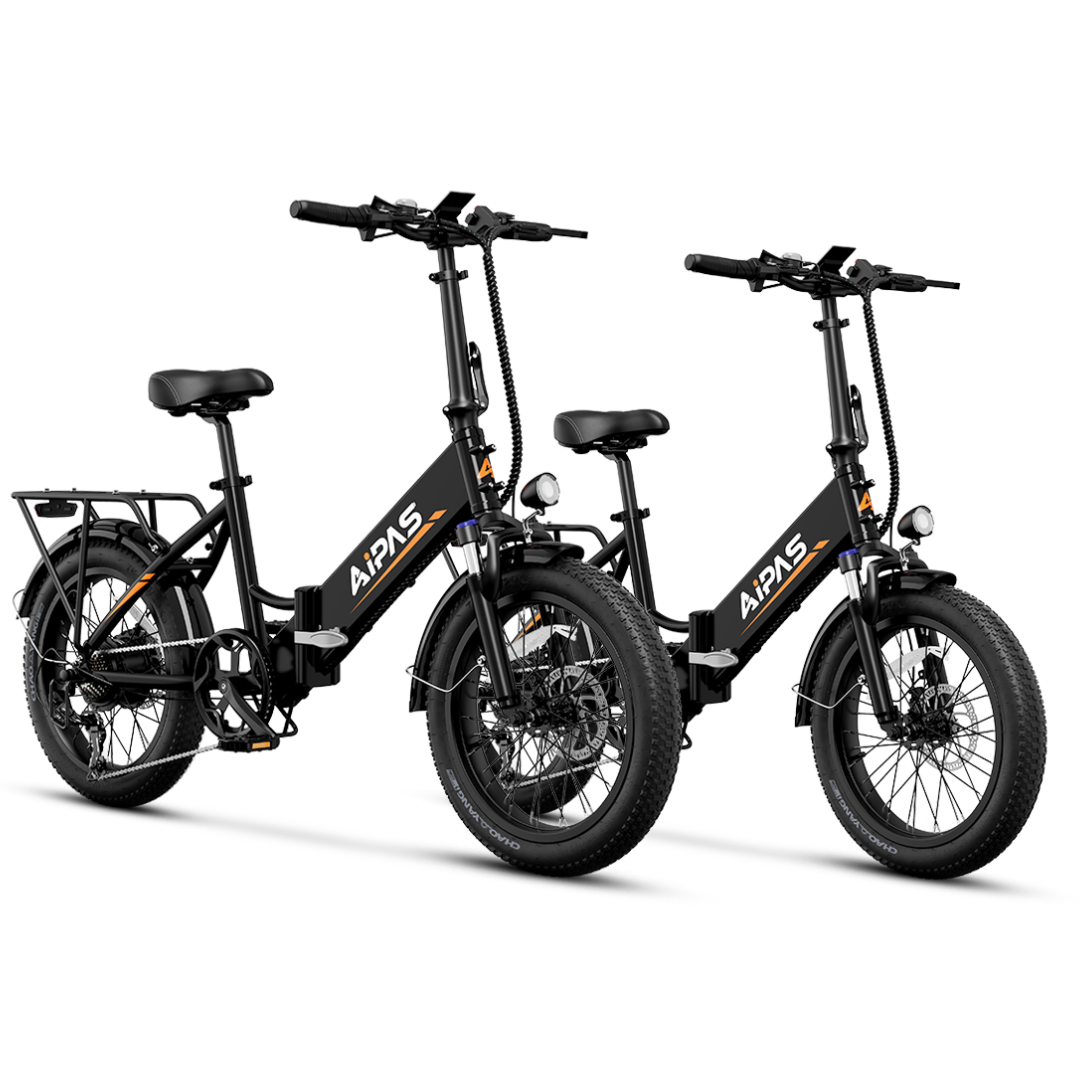 1-5 Gear Levels
Speed From 0 to 28 Mph
Motor 1500W
Rear-Wheel Drive Motor
Max 480 Lbs
Weight Capacity 480 Lbs
48V 15 Ah
Battery Capacity
Range 70 Miles
Single Charge Range
4-6 Hours
To Fully Charge
The Aipas A6 is an electric cargo bike designed for commuting and carrying cargo
This bike is equipped with a powerful 1500W motor and features two 48V lithium-ion batteries, one in the front and one in the rear, with a total capacity of 28.4 ampere-hours, enabling the bike to travel up to 70 miles. The A6 has a sturdy rear rack capable of supporting 480 pounds, with dimensions of 21 inches by 6.75 inches and two 11-inch slots for locally installing popular child seats. The bike also includes a transparent protective device to shield children's feet from being caught in the wheels. The A6 comes with sturdy one-piece rear rack, 180mm Tektro hydraulic disc brakes, and reflective striped tires. It can cruise at a maximum speed of 28 miles per hour and features adjustable seat posts and stems, a step-through frame.
Motor 1500W
Rear-Wheel Drive Motor
Powerful Lighting Configuration
The bike also comes with brakes, headlights, and turn signal lights. When activated on the control panel on the left side of the handlebars, the turn signal lights illuminate, in addition to a separate horn and light button.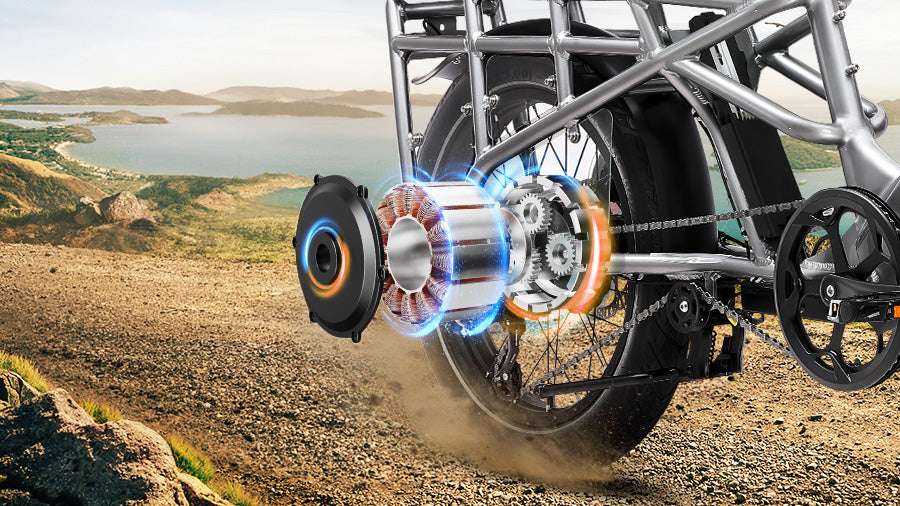 1500-Watt Motor
This bike is equipped with an 1500W, 48V motor, and can reach a top speed of up to 28 miles per hour with pedal assistance. It has a high torque of 85, making it capable of conquering various terrains.
Adjustable Handlebars
Handlebars that are highly adjustable for both vertical and horizontal angles, featuring ergonomic grips, allowing the A6 to conform to your riding posture, enabling more comfortable long rides.

Powerful Electronic Control Configuration

A6 features 5 levels of electronic assist and is equipped with the M5 display screen.
It can show energy levels, speed, pedal assist level, ride mileage, trip, and odometer.

Cruise Control: Maintain a fixed speed, allowing the bike to move automatically.
Assist Mode: Effortless walking and pushing the bike without exertion.
Sport Mode: Enhanced torque for quick acceleration and higher power output.
Pedal Assist Mode: Easier pedaling while still enjoying the fun of cycling.
Pure Electric Mode: No need to pedal; control the speed using electronic controls
Mechanical Button Design
-The mechanical brakes work effectively and come with integrated brake lights.
-Turn signal lights and a horn are seamlessly integrated into the bike.
-Buttons provide a responsive tactile feedback and won't depress easily.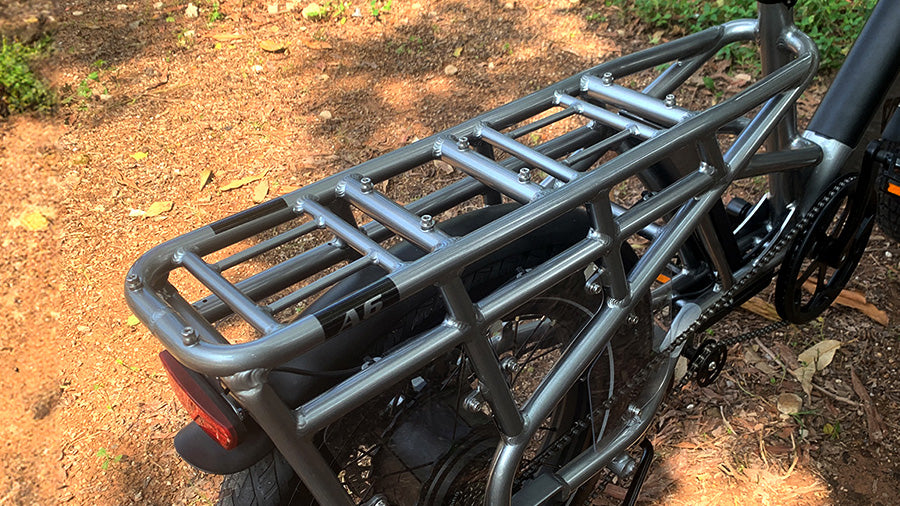 Robust Rear Rack
The A6 features a robust rear rack capable of withstanding 480 pounds, with dimensions of 21 inches by 6.75 inches and two 11-inch slots for locally installing popular child seats. Additionally, the bike includes a transparent protective shield to safeguard children's feet from getting caught in the wheels.
Closed, Concealed Battery Design
This bike is equipped with a 48V 15Ah lithium-ion battery and an 1500W motor. The enclosed design achieves an IPX-6 waterproof rating, providing better protection for the battery cells and preventing theft. Aipas batteries are internationally certified with UL 2849, ensuring a longer lifespan and larger capacity, with a full charge offering a range of up to 70 miles.
1 Year Warranty

14-Day Trial

Tax-Free

3-5 Day Delivery

Call Us:+1(626) 702-6679

Motor 1500W

Speed From 0 to 28 Mph

85 Nm

UL Certification

Max 480 Lbs

48V 15Ah

Range 70 Miles
Additional Features And Configurations Of The A6
A6 additional configurations and features are all designed to provide a comfortable, smooth, and safe riding experience on urban roads.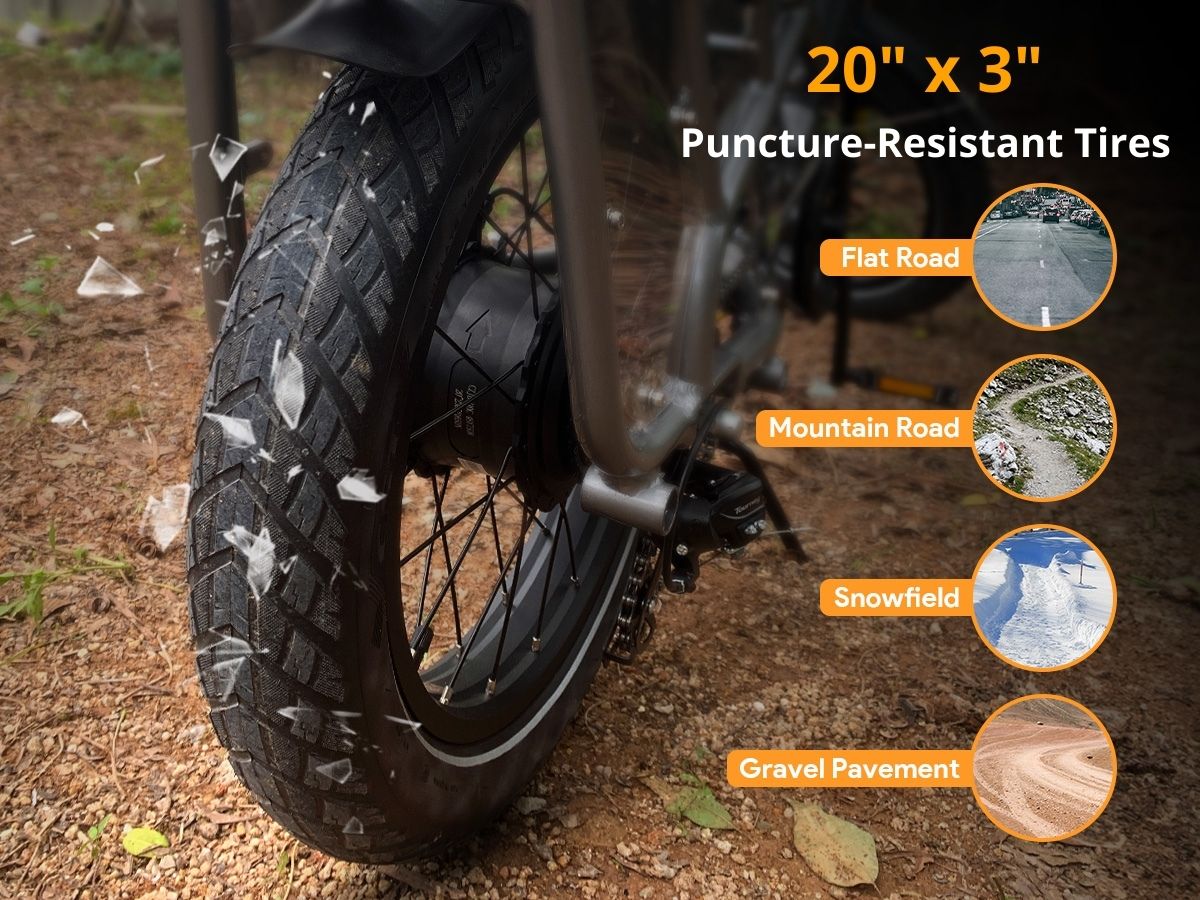 "20" x 3" puncture-resistant tires
With 20*3 fat tires and front suspension, it can conquer various road conditions, including flat roads, mountain trails, snow-covered fields, gravel pavements, and more.
Adjustable Suspension
The left and right rotation adjustment buttons allow you to adjust the suspension's softness or hardness, up to 100mm, to help you tackle different road conditions, ensuring a stable and safe ride.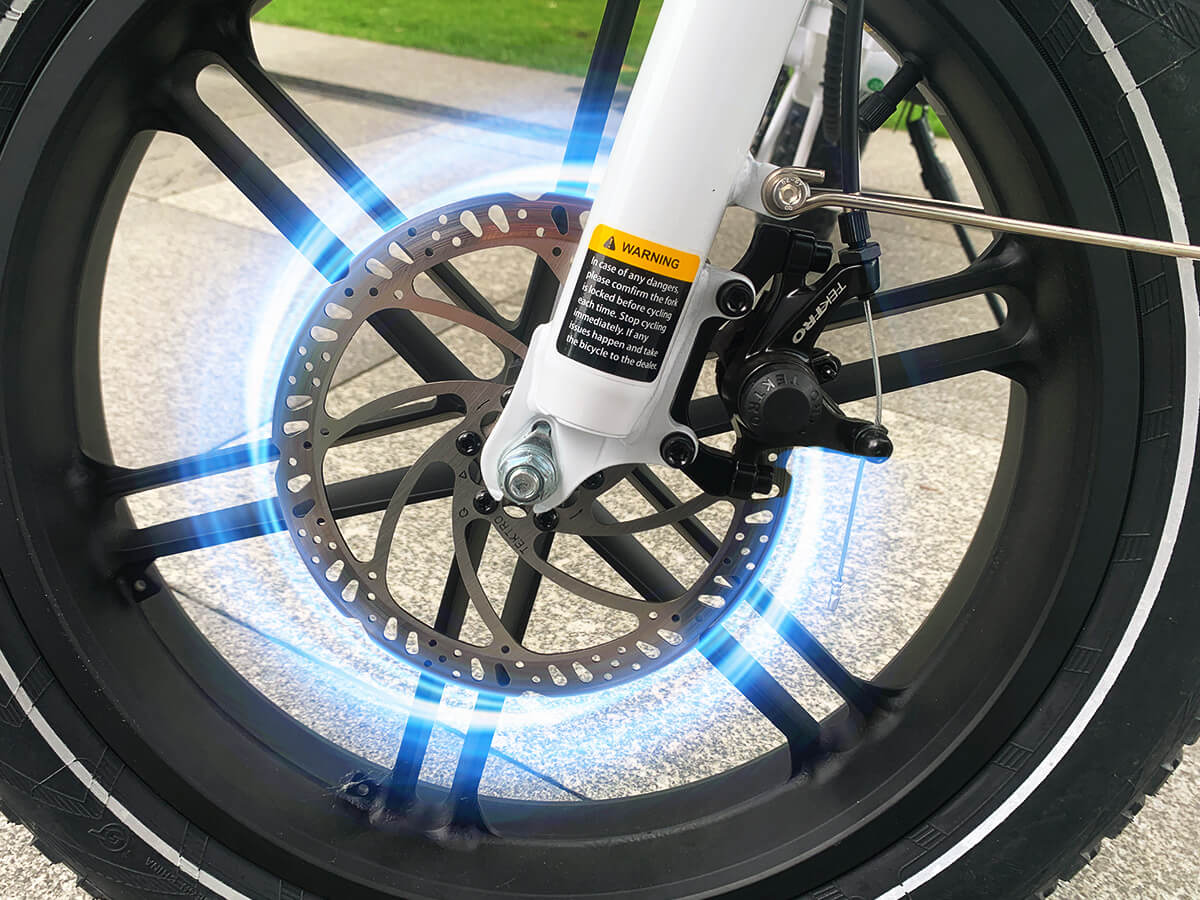 Hydraulic Brake 180mm
The bike has a Tectro caliper and 180-millimeter disc rotors, and a hinge for folding.
Geometry

Specification

Box Product List
A -- Total Length 69 ″

B -- Wheelbase 49 ″

C -- Mix Handlebar Height 41 ″

D -- Max Handlebar Height 44 ″

E -- Minimum Seat Height 28 ″

F -- Maximum Seat Height 37 ″

G -- Chain Stay Lengtha 26 ″

H -- Stand Height 22 ″

I -- Top Tube Length 22 ″

J -- Head Tube Length 9 ″

K -- Handlebar Length 26 ″

L -- Wheel Diameter 21 ″

M -- Minimum Seat to Floor 32 ″

N -- MAX Seat to Floor 41 ″
Battery  48V 15Ah

Charger US Standard 2.0 A Smart Charger

Range 70 Miles

Controller 48V / 22A

Hub Motor 1500W brushless gear motor

Display LCD Display

Total Payload Capacity  480 LBS

Weight  90LBS

Recommended Rider Heights  4'11" ~ 6'50"

Pedal Assist Intelligent  0~5 level pedal assist

Tires  20" x 3" KENDA

Throttle  Half twist throttle

Rear Light  Left and right turn signal brake lights

Suspension With locking and adjustment functions.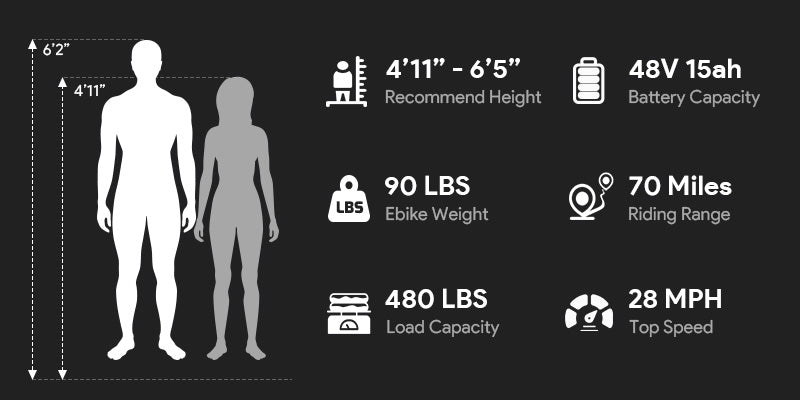 1* ELECTRIC BIKE

1* User Manual

1* Headlight

1* Fenders

1* Charger

1* Seat

2* Pedals

1* Keys

1* Battery
I am very small / tall. Can I still ride your cargo bikes?

With the Aipas cargo bikes we want to reach as many people as possible. In principle, you can ride the A6 cargo ebike with a height from 4'11" to 6'2"
What is the maximum load capacity of the rear rack?

The rear rack can hold a maximum of 480 lbs.
Can this cargo ebike carry kids?

Yes, After purchasing a suitable child seat like Yepp Maxi Child Seat, you can carry two kids at a time
Can I load cargo in the front and rear racks without a basket or platform?

Our front rack is designed to work ONLY with an attached Aipas Platform, Small Basket, or large Basket. But our rear rack can carry cargo without any attached basket or platform.
Do I need to assemble the bike?

This ebike comes 97% assembled,already assembly ready to go
How long does it take to recharge the battery?

It takes about 4-6 hours to fully charge the battery
What's your warranty policy?

Aipas offers a one-year warranty on all e-bikes, for more specific warranties, please check our warranty policy.
What's your return policy?
What's your shipping policy?

Time of arrival includes order processing time and shipping time (3-5 working days). You can check more details on our Shipping Policy Page
Customer Stories
"Aipas single-battery version A6S electric cargo bike."
- TailHappyTV
The Aipas A6S electric cargo bike has a load capacity of 450 pounds, weighs just 71 pounds, and claims to have a range of 45 miles on a single charge. The 750 watt Hub Drive motor does 1300 Watts Peak and the MSRP is $1999, currently on sale. The rear cargo rack is welded onto the frame and has the option to add a second battery for dual batteries. The bike comes with plastic fenders, front suspension with adjustable shock absorbers, and a frame-integrated rechargeable lithium-ion battery with LG interior cells. The M5 display is adjustable, and the handlebars can be raised or lowered with a lever and rotated as desired. The bike is equipped with Shimano gears, Tektro hydraulic brakes, and a three-inch CST Big Boat tire with a street-friendly tread.
"The Aipas A6D is an electric cargo bike designed for commuting and cargo carrying."
- Electrek.co
It is equipped with a powerful 750 watt planetary geared motor that can reach a peak of 1300 watts, making it capable of carrying heavy loads with ease. The A6D is also equipped with two 48 volt lithium ion batteries, which ensures that the journey is never cut short. The bike has a range of up to 140 miles, making it ideal for long-distance commuting. The A6D is equipped with a sturdy rear rack that can hold up to 450 pounds, making it ideal for carrying heavy loads. The rack also houses two different 11 inch slots for mounting kid seats. The A6D is equipped with 180 millimeter tektro hydraulic disc brakes, which ensure that stopping all of this weight is safe and secure. The bike also has strong tires with a reflective stripe on both sides for added visibility during nighttime rides.
This product is rated 4.7 of 5.0 stars.
It has received 187 reviews.
Value of money score:
Super Worth
Recommendation score:
HIGHLY RECOMMEND
An awesome bike
It's a pretty fast and reliable bike for such a good price.
Value of money score:
Super Worth
Recommendation score:
HIGHLY RECOMMEND
I love this bike
I bought one, and then another one. It's very well packaged. Assembling is very easy. Setting up the brakes not that easy, but it's doable. Gears were already set up. Amazing deal for the price. Drives like a charm.
Value of money score:
Worth
Recommendation score:
DEPENDS ON SITUATION
Great electric bike
Everything seems to work OK.
Value of money score:
Super Worth
Recommendation score:
HIGHLY RECOMMEND
GreatBike
Sturdy electric bicycle, smooth, well worth money.
Value of money score:
Super Worth
Recommendation score:
HIGHLY RECOMMEND
I am impressed and very happy so far!
This bike is really comfortable and has alot of power. It handles bumps really well and has a smooth ride and the motor is quiet. So far I am really happy with the purchase. I am 6'2" and 200 lbs and the bike feels like it was custom made for me.
Value of money score:
Super Worth
Recommendation score:
HIGHLY RECOMMEND
Shipping was really fast
The bike was mostly assembled and shipping was really quick. Bike road and handled really well.
Value of money score:
Super Worth
Recommendation score:
HIGHLY RECOMMEND
great bike
The best bike I ever owned.